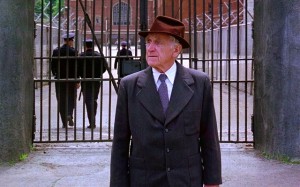 In the movie The Shawshank Redemption, there is a poignant sub-plot involving the character known as "Brooks".  After 50 years in prison, he suddenly finds himself a free man desperately trying to adjust to his new life on the "outside".  Sadly, after spending so many years living within the unchanging regiment and routine of prison, he simply cannot cope with the dramatic variations and pace of life in what has now become an entirely foreign environment.  Unable to function, he contemplates committing another crime in the hopes of returning to the only place that feels normal to him, but ultimately he opts to take his own life instead.  He writes a letter to his friends who are still on the inside describing his plight.  After reading it aloud "Red", Morgan Freeman's character, explains to the other inmates that Brooks had been "institutionalized".  "These prison walls are funny." He says, "First you hate 'em, then you get used to 'em. Enough time passes, gets so you depend on them. That's institutionalized."
In the last couple years, I've began to realize that many believers are struggling with a similar predicament. We know that there is more for us to do and be outside the four walls of the local church, but because so much of our Christian experience has taken place within these narrow parameters, we no longer know how to think or live like free men and women.  For many of us, "going to church" and "doing our church thing" has become the central activity of our faith.  Week after week, year after year of faithful attendance has conditioned us to think that institutional life is all that there is for us.  So much so, that any attempts to go beyond these well defined boundaries has often been deemed too dangerous, or even forbidden.  It's almost like we've learned to fear what might happen to us if we dare to venture out and traverse this land so fraught with evil and temptation.  The evidence of this mind-set is found in our church-speak.  For example, "The world" has become the term we use to describe that place we don't want to be influenced by and those people whose behavior we just can't tolerate.  We'd like to think outside of the church box, but somehow we've been convinced that the box is not only a good thing, it is there for our protection and should never be tampered with lest we mess it up.
Lately we've been asking people this question: If you could do anything you wanted in ministry for the Lord, what would you do?  The responses have been so consistent it's frightening.  Almost without exception, they will get the "deer in the headlights" look and then say, "Well… I guess I'm not sure."  With all due respect to those who have propagated this mentality, myself included, it is time to set ourselves and the people we care for free.  Free to do all manner of things that have nothing to do with our regularly scheduled meetings.  Our programs, our structures, and our Sunday morning routines can, in fact, become a form of bondage if we're not careful.  In principle, we all agree that we're to be the light of the world and the salt of the earth.  But if we're honest about how we've spent our time and energy, it's obvious that we've focused the vast majority of our ministry efforts in those places already well lit and sufficiently seasoned.  When I look at how Jesus did what he did, I see him out there mixing it up with real people in the real world… meeting each individual at the point of their specific need, loving them, listening to them, treating them with respect, and bestowing on them the kind of value that we all secretly long for.
Whether we're conscious of it or not, over time we've began to believe that we must find our place within an organization before we can "do our ministry."  When in reality, most of us our called to serve outside the well guarded confines of what we now call "the church."  Although some gifts and callings are primarily for equipping and caring for other believers, many more are bent toward impacting those we come into contact with on a more regular basis.  This is why Jesus elevated the idea of "loving our neighbor" to a place of primary importance on every believer's to-do list.  The apostle Paul was dealing with a similar problem in the church of Galatia.  Many Christians had been persuaded to believe that they must come back under the law and its practices in order to be truly justified.  Paul had worked so hard to enlighten these young believers to the principles of freedom, grace, and justification through faith, only to have them drug by their feet back into religious bondage by the self appointed "church wardens" of the day.
"You were running a good race. Who cut in on you and kept you from obeying the truth?  That kind of persuasion does not come from the one who calls you. It is for freedom that Christ has set us free. Stand firm, then, and do not let yourselves be burdened again by a yoke of slavery." (Gal 5: 1-8)
Please understand what I'm trying to convey here.  I am not saying that going to church means that we are submitting ourselves to bondage, nor am I suggesting that we should rebel against that which we might flippantly deem "the institutionalized church."  The point is that most of us were pretty good at living in the real world before we got saved.  What happened to us?   We cut our hair, got our uniform, and started walking in formation. We were institutionalized, that's what happened.  We took on the yokes of others and in the process lost touch with the uniqueness of our personal callings and passions for ministry.  Come in, sit down, stand up, sing a song, pass the plate, listen to a sermon, sing another song, pray, go home.  Call me crazy, but after doing the same things the same way for so long, I think maybe its time to step back and evaluate how well what we're doing is working.  In many respects, our institutions no longer serve us, but it is we who now serve them.
In the next reformation, we must stop trying to get people to our meetings and instead make it our goal to get them to Jesus.  We must each seek the Lord for what he has for us to do… AND THEN DO IT!  It's almost like we've forgotten how to follow the inner leadings of the Lord for ourselves.  If we're waiting around for our pastor, or some other church leader to bestow upon us the privilege to minister, then we've adopted the wrong mode of operation.  Maybe we'll muck it up a little… so what?  Jesus sent his disciples out there knowing full well that they weren't prepared for everything they would encounter.  That's how we learn the fastest.  "Oops… I won't do that again."  The time has come to encourage one another to go out and do what our heart longs to do for the Lord.  And if that means we lose our best nursery worker, or our most faithful usher, than so be it.  The world needs the church a lot more than the church needs itself.   If like me,  you can't stand the thought of living out the rest of your life on the inside, maybe it's time to start chipping away at the wall of our cell.  We might have to take a long crawl through a whole lotta nastiness, but at least we'll get free.  Now's the time to "get busy livin or get busy dyin."