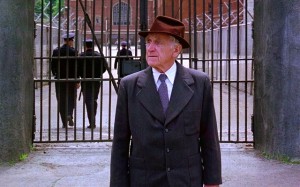 In the movie The Shawshank Redemption, there is a poignant sub-plot involving the character known as "Brooks".  After 50 years in prison, he suddenly finds himself a free man desperately trying to adjust to his new life on the "outside".  Sadly, after spending so many years living within the unchanging regiment and routine of prison, he simply cannot cope with the dramatic variations and pace of life in what has now become an entirely foreign environment.  Unable to function, he contemplates committing another crime in the hopes of returning to the only place that feels normal to him, but ultimately he opts to take his own life instead.  He writes a letter to his friends who are still on the inside describing his plight.  After reading it aloud "Red", Morgan Freeman's character, explains to the other inmates that Brooks had been "institutionalized".  "These prison walls are funny." He says, "First you hate 'em, then you get used to 'em. Enough time passes, gets so you depend on them. That's institutionalized."
In the last couple years, I've began to realize that many believers are struggling with a similar predicament. We know that there is more for us to do and be outside the four walls of the local church, but because so much of our Christian experience has taken place within these narrow parameters, we no longer know how to think or live like free men and women.  For many of us, "going to church" and "doing our church thing" has become the central activity of our faith.  Week after week, year after year of faithful attendance has conditioned us to think that institutional life is all that there is for us.  So much so, that any attempts to go beyond these well defined boundaries has often been deemed too dangerous, or even forbidden.  It's almost like we've learned to fear what might happen to us if we dare to venture out and traverse this land so fraught with evil and temptation.  The evidence of this mind-set is found in our church-speak.  For example, "The world" has become the term we use to describe that place we don't want to be influenced by and those people whose behavior we just can't tolerate.  We'd like to think outside of the church box, but somehow we've been convinced that the box is not only a good thing, it is there for our protection and should never be tampered with lest we mess it up.
Lately we've been asking people this question: If you could do anything you wanted in ministry for the Lord, what would you do?  The responses have been so consistent it's frightening.  Almost without exception, they will get the "deer in the headlights" look and then say, "Well… I guess I'm not sure."  With all due respect to those who have propagated this mentality, myself included, it is time to set ourselves and the people we care for free.  Free to do all manner of things that have nothing to do with our regularly scheduled meetings.  Our programs, our structures, and our Sunday morning routines can, in fact, become a form of bondage if we're not careful.  In principle, we all agree that we're to be the light of the world and the salt of the earth.  But if we're honest about how we've spent our time and energy, it's obvious that we've focused the vast majority of our ministry efforts in those places already well lit and sufficiently seasoned.  When I look at how Jesus did what he did, I see him out there mixing it up with real people in the real world… meeting each individual at the point of their specific need, loving them, listening to them, treating them with respect, and bestowing on them the kind of value that we all secretly long for.
Whether we're conscious of it or not, over time we've began to believe that we must find our place within an organization before we can "do our ministry."  When in reality, most of us our called to serve outside the well guarded confines of what we now call "the church."  Although some gifts and callings are primarily for equipping and caring for other believers, many more are bent toward impacting those we come into contact with on a more regular basis.  This is why Jesus elevated the idea of "loving our neighbor" to a place of primary importance on every believer's to-do list.  The apostle Paul was dealing with a similar problem in the church of Galatia.  Many Christians had been persuaded to believe that they must come back under the law and its practices in order to be truly justified.  Paul had worked so hard to enlighten these young believers to the principles of freedom, grace, and justification through faith, only to have them drug by their feet back into religious bondage by the self appointed "church wardens" of the day.
"You were running a good race. Who cut in on you and kept you from obeying the truth?  That kind of persuasion does not come from the one who calls you. It is for freedom that Christ has set us free. Stand firm, then, and do not let yourselves be burdened again by a yoke of slavery." (Gal 5: 1-8)
Please understand what I'm trying to convey here.  I am not saying that going to church means that we are submitting ourselves to bondage, nor am I suggesting that we should rebel against that which we might flippantly deem "the institutionalized church."  The point is that most of us were pretty good at living in the real world before we got saved.  What happened to us?   We cut our hair, got our uniform, and started walking in formation. We were institutionalized, that's what happened.  We took on the yokes of others and in the process lost touch with the uniqueness of our personal callings and passions for ministry.  Come in, sit down, stand up, sing a song, pass the plate, listen to a sermon, sing another song, pray, go home.  Call me crazy, but after doing the same things the same way for so long, I think maybe its time to step back and evaluate how well what we're doing is working.  In many respects, our institutions no longer serve us, but it is we who now serve them.
In the next reformation, we must stop trying to get people to our meetings and instead make it our goal to get them to Jesus.  We must each seek the Lord for what he has for us to do… AND THEN DO IT!  It's almost like we've forgotten how to follow the inner leadings of the Lord for ourselves.  If we're waiting around for our pastor, or some other church leader to bestow upon us the privilege to minister, then we've adopted the wrong mode of operation.  Maybe we'll muck it up a little… so what?  Jesus sent his disciples out there knowing full well that they weren't prepared for everything they would encounter.  That's how we learn the fastest.  "Oops… I won't do that again."  The time has come to encourage one another to go out and do what our heart longs to do for the Lord.  And if that means we lose our best nursery worker, or our most faithful usher, than so be it.  The world needs the church a lot more than the church needs itself.   If like me,  you can't stand the thought of living out the rest of your life on the inside, maybe it's time to start chipping away at the wall of our cell.  We might have to take a long crawl through a whole lotta nastiness, but at least we'll get free.  Now's the time to "get busy livin or get busy dyin."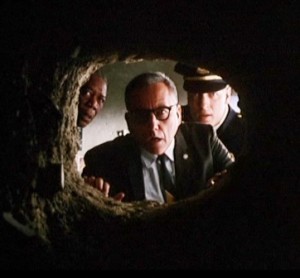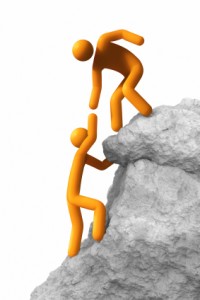 In 1987 I was a young seminary student in Chicago.  Each of us was assigned an advisor to help make decisions about what classes we would take and the choices that would determine the direction and focus of our course of study.   As a result, I found myself sitting with Dr. Robert Coleman, face to face across the desk in his little office.  I remember feeling somewhat in awe of him as I had read some of his books and had heard stories about the strength and uniqueness of his personality.  I also remember that he didn't seem very concerned about my choice of courses, but instead was intent on having me come and join a small group of students that he led in prayer in the early mornings.  Although I had many other interactions with Bob during my time there at Trinity, for whatever reason, I never saw fit to become a member of what I now realize was his personal band of disciples.  In all honesty, I'm still kicking myself for not taking advantage of this incredible opportunity.  Instead of availing myself for a relationship with Dr. Coleman, for the next several years, I spent most of my time doing what I apparently deemed more important… vocational ministry.  What a knucklehead!
Although I'm sure serving as a pastor during that period of my life produced some good fruit for me personally and hopefully in the lives of a few others, I wish I had seen the value in being discipled by the guy who, in my opinion, literally wrote the definitive work on discipleship.  To this day, Dr. Coleman's "Master Plan of Evangelism" stands head and shoulders above all other books written on the topic of how to make disciples.  Had I understood then what I do now, I would have jumped at the chance of sitting at his feet, and not just sitting there listening passively in his classes.
In the next reformation, we have to somehow recapture the vital nature of discipleship and spiritual parenting as it pertains to accomplishing the ultimate objective of the local church.  We can get so busy doing other "church stuff" that we lose sight of what is, for all practical purposes, the fundamental reason for our being left here on earth.  Think about it, Jesus said that our lives should be given to loving God and loving our neighbor.  Could we not accomplish the first half of that equation more completely if we were whisked away to heaven right after being saved?  In his manifest presence we will be entirely consumed by his love.  So it stands to reason that we remain in this realm primarily for the sake of others.
Recently, while shopping at the local mall with my wife, I was approached by a young teenage girl with a "bible tract" in her hand.  She was with an older lady and another girl about her age.  It was obvious to me that they were out "evangelizing" and I apparently looked like a promising candidate.  She said nothing to me, but offered me the little tract as she walked on by with the other two without ever breaking her stride.  I took the pamphlet and said "thanks" as I saw a look of relief come over her face.  It was as if she was saying, "There.  I've done it!"  After reading its contents, my heart just sank.  Like most of the publications of this genre, I was quickly reminded of what a complete wretch I am and how I was bound for eternal torment if I didn't get my act together pronto.   Page after page of cute little illustrations depicting what a total loser I was, all supported with scripture of course.  I thought to myself, well… so much for the "good" news.
As the years roll by, I find myself becoming more and more of a pragmatist.  I've wasted way too much time on methodologies and good ideas that simply haven't worked.  No matter how far away I might roam, I always seem to come back to this simple truth, the greatest impact of our life will be made one person at a time.  The great commission will not be fulfilled programmatically, but rather in the context of personal relationships.
Many years ago I had an experience that will forever illustrate this revelation in my thinking.  We were leading a ministry that was experiencing nothing short of a modern-day revival.  I'm not talking about a bunch of meetings where a gaggle of believers get all hyped up for Jesus.  We actually were seeing spontaneous salvation and deliverance taking place among many of the lost and addicted young people of our city.  The Lord was doing something far beyond our efforts or understanding, and we found ourselves scrambling to try to hire staff and to find people to take care of all the new believers that were coming to our church.  At that time, our Sunday morning service was gaining a reputation for being one of the best shows in town.   The atmosphere was very informal, the building we were meeting in was virtually devoid of religious icons and artifacts, and we had a really tight rock band leading our worship.  Our overall vibe was very lively and light-hearted, a great first experience for many of those who were new to the practice of "going to church."
At the end of one of our services, I asked for anyone who wanted to give their life to the Lord for the first time to come to the front of the auditorium.  I don't remember how many came forward that morning, but it was a good number.  We led them all in the prayer of salvation and then concluded the service.  As was our routine, we asked the group of new believers to follow us back to one of our smaller rooms at the back of the building.  Once gathered, I said a few words and we began to hand out bibles to those standing side by side, all facing inward in a big circle.  Suddenly and without warning, I burst into what can only be described as uncontrollable weeping.  I'm not exaggerating, I completely lost it.  Here I was, trying to say something profound and comforting to this wide eyed group of new believers, and I self imploded right in front of them.  So much so that I had to quickly hand the meeting off to one of the other staff members so I could go hide in my office.
As I waited for the building to clear out so as not to frighten anyone with my disheveled appearance, I began to ask, "What the heck was that Lord?  These aren't tears of joy, I feel like I'm dying here!"  It made no sense to me that I was so grieved over what is supposed to be such a joyous occasion.  Maybe the angels were rejoicing, but I was overcome with quite the opposite emotion.  On the drive home, the Lord reminded me of how sad it is when irresponsible men impregnate young women only to leave them once the child is born.  In an instant, I understood what had happened to me in that back room.  Somehow, I had been allowed to feel just a small portion of the Lord's heart for spiritual orphans.  We had just created another fresh batch of babies, and I knew there was no way we were going to be able to adequately take care of them.  We had only a handful of relatively mature believers in our ministry, and even fewer who were actively trying to disciple anyone.  My wife and I had been meeting with a small group of new believers in our home, but I knew our ability to provide any kind of individualized care was completely maxed out as it was.
Everyone knows that making babies is always going to be fun.  It's exciting and enjoyable.  But taking care of those babies we've made is quite the opposite.  It's hard work.  It requires personal sacrifice, an unwavering commitment, and a relentless consistency to raise a child to the point of self sufficiency.  So it is with spiritual parenting.  In the local church, we often take great pride in the number of babies we've made.  But I have to wonder how many of them have been virtually abandoned shortly after birth?  In our pursuit of "getting people saved," how many spiritual orphans have we created?
For though you have ten thousand instructors in Christ, yet you do not have many fathers… 1Co 4:15
In the next reformation, church leaders must somehow prioritize the value of spiritual parenting and discipleship.  So many believers seem to remain in perpetual spiritual immaturity for the simple reason that so few are willing to invest in the kind of up close and personal relationships that Jesus clearly modeled for us in the Gospels.  If your church's evangelism mentality is all about getting people to make a decision, so you can quickly move on to the next person, and so on, then it may be time for a new paradigm.  If you're mantra is, "some will, some won't, who cares, who's next?" you might be under estimating the length of process that most people go through when searching for truth.
Dr. Coleman used to look out over us as promising seminary students and exclaim, "It's good that you're planning to enter the ministry, now where are your men?"  That question has been ringing in my ears ever since.  Where are your men?  Whose life are you intentionally investing in right now?  Is anyone counting on you for care, or guidance, or prayer support?  If we fancy our self a spiritual leader and we're not really that involved in the lives of any specific individuals,  it might be time for a gut check.   Are we really in the ministry, or just in denial?
Or maybe you're not in a leadership position in your church, but you know you've been a Christian long enough that you could be helping others along their way.  Sometimes, if you want to know who to lead, all you have to do is turn around and see who's already following you.  Maybe it's your kids.  Maybe it's a co-worker who you know listens to what you say.  It's usually not about going out and trying to find someone to disciple.  Spiritual parenting often begins with a simple decision to be a bit more intentional with the relationships we've already established.  Take the time to read The Master Plan of Evangelism.  I think now it's actually called the Master Plan of Discipleship.  The question is not "What Would Jesus Do?" but rather, "What Did Jesus Do?" while he was here with us.  The answer is painfully obvious, he made disciples, and he commissioned us to do the same.