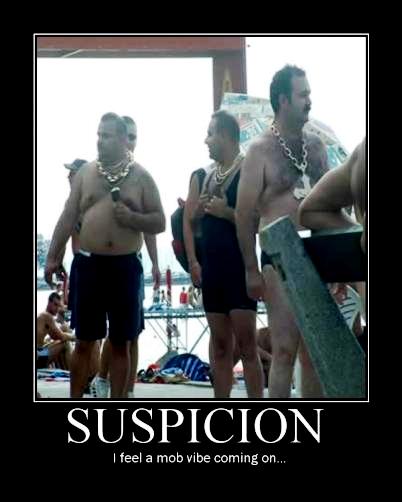 Several years ago, a friend of mine shared an impression he had received about the spiritual climate of the region in which we were living at the time.  In prayer, he saw a stereotypical church building with a huge three-legged stool sitting on top of it.  On top of the stool sat a bride and groom figurine like the kind that would normally be seen on a wedding cake.  On the legs of the stool there was writing, each leg bearing a different word.  On the first leg the word "competition" was written, on the next "recognition" and on the third "suspicion".   As he continued praying, the Lord revealed that the figurine represented the union of Jezebel and the religious spirit, and that they were the antithesis of Christ and his bride the Church.  Their position on top of the stool was indication that they had been given much authority in the local church in our area.  The stool represented spiritual authority, and the legs were that authority's support structure.   The Lord then revealed that if only one of these legs were to be broken, the whole thing would easily topple over.  I believe these three attitudes of the heart: competition, recognition, and suspicion expose some of the enemy's most common tactics for keeping Christians from working together.  More importantly, they also provide a glimpse into the Lord's plan for unifying his body and restoring life and vitality to the local church.
Competition: If at any point we feel the need to compete with another believer or ministry, we need to consider where that desire might be coming from. Though I am convinced there is actually a kind of healthy competition that can take place between believers as we "spur one another on toward love and good deeds" (Heb 10:24) there is also an ungodly form of competition that is most often motivated by our need for validation.   Let's face it.  We all want to be great and to be a part of something great.  What we may not realize is that this need for greatness is a God given desire.  The scriptures make it clear that every believer was created to take and to hold a place of great heavenly authority.  However, we can often loose sight of this perspective in the midst of our efforts to find our place in the earthly pecking order.  Most believers would acknowledge that our value is not determined by our level of outward "success" or by how we are viewed by others.  And yet, we often have an internal struggle erupt when another brother or sister is openly blessed by the Lord in some significant way.  Why do we sometimes grit our teeth when He makes an obvious display of His favor on a fellow believer or ministry?   In 1 Cor. 12, Paul explains that "if one part is honored" than "every other part should rejoice with it." We all know that it can be quite difficult to muster up the appropriate response when faced with that situation.   Instead of being genuinely thankful for another's good fortune or blessing, our first response may be to feel jilted or "gypped" by God.
There are many biblical examples of this form of jealousy.  Cain and Able, Joseph and his brothers, certainly Jesus and the Pharisees, and even the ministry of the Apostle Paul suffered from this kind of ungodly competition.  In Acts 13 we are told that when Paul was teaching in the Synagogue he began to draw large crowds of people.  And "when the Jews saw the crowds, they were filled with jealousy and talked abusively against what Paul was saying."  (vs. 45) If we ever find ourselves wanting to discredit or disparage another ministry or a minister that seems to be having more success than we are, we need to quickly reign in our tongue and ask the Lord to enlighten our thinking.  Even if a given ministry or leader may at times appear to us to be improperly motivated, we need to be mindful of our thoughts, and intentionally gracious with our comments.  Being overly critical of another believer or their ministry is a sure sign of something amiss within us.  And rest assured, if our judgments are truly unrighteous and without repentance, they will inevitably lead to our own humiliation.
In contrast, if we will simply learn to "rejoice with" our brother when he is blessed, this will encourage the Lord to release his favor and blessing to us.  Our Father really does want to pour out all kinds of good things on his children, but he will never reward unbridled sibling rivalry.  When my kids are in strife with each other, I am often compelled to respond quickly with some kind of disciplinary action.  But when they are seemingly intent on tearing one another to pieces, I will let them go at it for a while without my intervention.  The result is remarkably consistent.  In no time, they become truly miserable and then they come crying to me for help.  My response is always the same.  "I don't want to hear about what your brother did, I'll deal with him next.  What did you do wrong?"  I am convinced that this is also the Lord's approach to resolution when we find ourselves in the midst of relational conflict.  In short, the countermeasure for competition is cooperation.
Recognition: If you have ever had the opportunity to attend a meeting where leaders from several different churches or ministries had come together, you might have discovered that these get-togethers seem to have a tendency to be either wonderful or horrible.  There is nothing sweeter than enjoying the heart-felt relationships shared by like minded believers, and nothing more excruciating than having to endure a room filled with posturing pastors or church leaders.  Again, this need for recognition is actually a part of our God-given makeup and is there by design.  The Father wants us not only to know Him, but also to be aware that we are known by Him.  But when we are not in touch with the Lord's acknowledgment of us, we will invariably resort to drawing attention to ourselves or something we have done in the hopes of getting it from each other.  Jesus devoted a significant portion of the sermon on the mount to this very issue.
"Be careful not to do your 'acts of righteousness' before men, to be seen by them. If you do, you will have no reward from your Father in heaven.  "So when you give to the needy, do not announce it with trumpets, as the hypocrites do in the synagogues and on the streets, to be honored by men. I tell you the truth, they have received their reward in full.  But when you give to the needy, do not let your left hand know what your right hand is doing, so that your giving may be in secret. Then your Father, who sees what is done in secret, will reward you." (Matt 6:1-4)
At one point, I was asked if I would be willing to help clean up our church building after one of our events.  I agreed to volunteer and showed up the next morning ready to work.  Within minutes, I found myself on my hands and knees cleaning toilets and urinals.  Though I immediately recognized that the Lord was closely watching my internal response to this proverbial test, there was still a part of me that really wanted someone to notice my willingness to tackle this particularly humbling assignment.  Thankfully, no one really paid much attention to what I was doing or made any comments about how great I was for lowering myself to such a task.  And rightly so.  Throughout the Gospels, we repeatedly find Jesus trying to enlighten his disciples to the principle of unnoticed obedience.  In Mark 9 he asks them this question, "What were you arguing about on the road?"Instead of responding, "they kept quiet because on the way they had argued about who was the greatest.  Sitting down, Jesus called the Twelve and said, "If anyone wants to be first, he must be the very last, and the servant of all."This statement is truly profound and applies to so many different aspects of our faith.  Clearly the Lord is not as impressed by our "greatness" as we tend to think he is.  But the scriptures seem to indicate that there is actually huge potential for long term honor and recognition in a lifestyle of unassuming self sacrifice.   Therefore, the countermeasure for recognition is servanthood.
Suspicion: Are we prone to give other believers the benefit of the doubt, or do we tend to hold them at arms length until they have somehow proven themselves to us?   Even though we understand that appearances and first impressions are not always reliable, I think we often want to "size up" one another a little prematurely.  If we have been a part of a local church for any length of time, then we have undoubtedly had our trust betrayed by a brother or sister in the Lord at some point.  If we have not yet been thoroughly disappointed or disillusioned by the behavior of another Christian, then we should prepare ourselves for the inevitable.  We should also recognize that to be disillusioned is to have an illusion removed from us.  Many of us still seem to be living under the assumption that no one in the church should be allowed to hurt us.  We should keep in mind that the Lord not only allows us to be wounded by others, but that his deepest desire is for us to die.  Through the example of his crucifixion, Jesus demonstrated that there are times when we must choose to make ourselves dangerously vulnerable, even to those who have the capacity to inflict great harm upon us.
Of course, this is not to say that we should haphazardly throw ourselves at the mercy of anyone with a fish emblem affixed to the bumper of their van.  Proverbs 4:23 says we should "guard our heart" because it is "the wellspring of life." We should always be mindful of our alliances and discerning of those whom we embrace.  But our pre-programmed misgivings toward other Christians can often end up being entirely unwarranted.   Our enemy is no fool.  He is very aware of the power that is released when dissimilar believers are unified in their goals and purpose.  In 1 Tim 6:4, Paul warns his young disciple about those who have "an unhealthy interest in controversies and quarrels about words that result in envy, strife, malicious talk, and evil suspicions." Have you ever encountered someone who seems to have an unhealthy interest in controversies?  Did they quarrel about words and talk maliciously about others?  Unfortunately, we have all probably all been sucked into these kinds of evil suspicionsat one time or another.  But even worse, if we make it our habit to pre-judge or talk negatively about other believers, than we should expect to reap what we have sown.  Instead, we should learn to ask the Lord to show us those divine relational hook-ups that we might normally overlook because of our own personal biases or insecurities.  We might even be pleasantly surprised by the friendships that would develop as a result.  The countermeasure for suspicion is trust.
It is no secret that the majority of people in this country are no longer attending church.  Even many believers have become disenchanted by the notion of committing themselves to a local congregation in any significant way. I believe the Lord is deeply grieved by this trend.  Though some have vowed to remain estranged, many others are sitting right beside us on Sunday morning wanting desperately to somehow be more connected.  Granted, we probably will not have the same level of affinity or concern for everyone who feels this way.  Some we may not want to be connected to at all, but that is the nature of the body.  Still, we cannot deny that we really do need each other.  So, "as we have opportunity, let us do good to all people, but especially to those who belong to the family of believers."  (Gal 6:10)
"The Three Legged Stool" is used by permission of Don French and Kingdom SEAL Ministries.