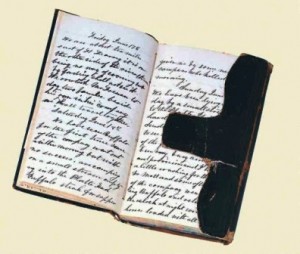 I really like the slogan for the AMC channel.  It is, "Story Matters Here."  In the local church, we would do well to learn from this profound little by-line.  People's life stories matter. Where we've come from, where we've been, and what it is that has made us who we are today is important to the Lord, and so it should be to us.   Knowing a little about someone's story is often the first step toward building a genuine relationship with them.  What was your family life like when you were growing up?  How did you come to know the Lord?  How did you meet your spouse, and so on.  Granted, going after the answer to these kinds of questions is just a starting point for relationship building, but you'd be amazed how frequently this step is skipped, especially in the church.  The result being that many believers are currently living at a level of relational superficiality that can create a palpable sense of disconnectedness and latent feelings of isolation.  We were created to know, and to be known by others.  When we take the time to truly get to know someone, we are acknowledging their intrinsic value, apart from anything they might be able to do or be for us.
In many respects, the local church in the U.S. now functions more like a business than the relationship based, community oriented organism that it is meant to be.  Because the church machine must be fed with a seemingly unending supply of human resources, people can sometimes be viewed by their leaders as little more than a means to an end.  If the people don't give more, how will we pay our mortgage and staff?  If the people don't serve more, how will we keep our programs afloat?  Although understandable, this dynamic often leaves the faithful parishioner feeling more like an object than a person…  an object that retains its value only as long as it is being used to accomplish the objective.  Once deemed unusable or unwilling to continue service for some reason, the object is then quickly discarded and the mad search for a replacement begins.  The machine must keep churning out whatever it's churning out… right?
Think about it.  The very nature of how most churches choose their leadership is more akin to a search on monster.com than the natural progression of spiritual parenthood that we find in scripture.  More often than not, pastors and supportive staff members are hired on the basis of some kind of prefabricated job description frantically created by the pastoral search committee due to the rapid departure of the last guy.  Here's the job, find someone who can do the job, end of story.   But with this mentality, much like the corporate world, a hired gun can just as easily become a fired gun based on what is often a highly subjective evaluation of their "job performance."  At least in my experience, it usually has more to do with ticking the wrong elder off at some point… but we won't go there.
Even pastors and church leaders can easily move in and out of local congregations without ever really being known.  I've had church job interviews during which the topic of my relationship to the Lord was never addressed.   Who I was evidently was not of primary concern, but rather what I could do for the ministry, that was the issue in question.  I've been on church staffs where we had little or no relationship with some of the other staff members and their families.  Something about that just never sat right with me.  If community building and personal vulnerability is not modeled by a church's leadership team, it's not likely to take hold within the congregation, no matter how passionately we might preach about it.  And this phenomenon tends to only worsen with numerical growth.  The larger a church becomes, the more difficult it is to facilitate the prioritization of relationship.  Though it is clear that friendships must evolve organically, a large ministry has to work even harder at cultivating a culture conducive to sustained small group interaction.  The belief that people's value comes from who they are, and not what they have to give, must be present somewhere in a church's DNA if life-giving community is ever to be attained.
If you've ever been involved in a church split, you understand why this is so important.  9 times out of 10, churches split apart or dissolve altogether simply because there is a relational breakdown among its leaders.  A little misunderstanding, jealousy, or back-stabbing among a leadership team can quickly bring a previously healthy church to its knees.  Or, if a leader has no relationships where he can be truly honest about his struggles or temptation, then rest assured, the enemy will take advantage of that opportunity.  Big trees can be toppled by little winds if there is an insufficient root system.  Please learn from my mistakes, churches can get very top heavy if the leaders are not covering each others backside.  An environment that does not communicate a loving concern for people as people, regardless of their position or performance, can turn ugly in a heartbeat.  Those you thought would take a bullet for you can sometimes just as easily decide they want to put one in you.
Knowing one another's story in no way guarantees a golden ticket for relational security or longevity, but it's at least a good starting place.   When we understand where someone's been and what they've experienced, we're usually not as quick to give up on them or to judge their behavior quite as harshly.  Like it or not, in many ways we are a product of our life experiences.  If you know someone was sexually abused by their father, for example, you might have a little more grace to extend to them when they have trouble submitting to authority.   You get the idea.
The next reformation must somehow include the core value that people's history, and their stories, matter.  If "all things" really do "work for the good," then those "things" must surely deserve some thoughtful consideration.  I've often encouraged people to create a spiritual time line or some kind outline of the significant events of their life, and then to share it with others.  You'd be amazed at how encouraging it can be to do a retrospective on where you've been and what has occurred over the course of your journey.  Invariably you'll begin to see the Lord's hand and his presence at each step along the way.   In the process, an awareness of your roots and a sense of being at peace with your history will begin to shine a light on the Lord's intended purpose and direction for your life.
If you've yet to be a part of a group that allows you to share your story, maybe you need to start one.  Believe me, everyone needs somebody to be interested in who they are and the path that has led them there.   But don't be surprised if the process seems painstakingly slow.  We've recently done this with a small group of 5 or 6 couples, and it took us about a year just to get through the first phase of story telling.  Don't get in a rush, and don't be afraid to have fun with it.  Share photo albums, put a power point presentation together about your journey, be honest about the good and the bad times.  You'll find that it's actually kind of liberating when you don't have anything to hide.  Though community building can be time consuming, I'm convinced that an unwavering commitment to establishing tight knit relationships will be a necessity if we are to successfully navigate the rough waters of the next reformation.
There's a land that I see where the children are free…free to be you and me.